Keyword Scraper Software
The Easy Way to Find Keywords and Build Huge Keyword Lists
Completelly Free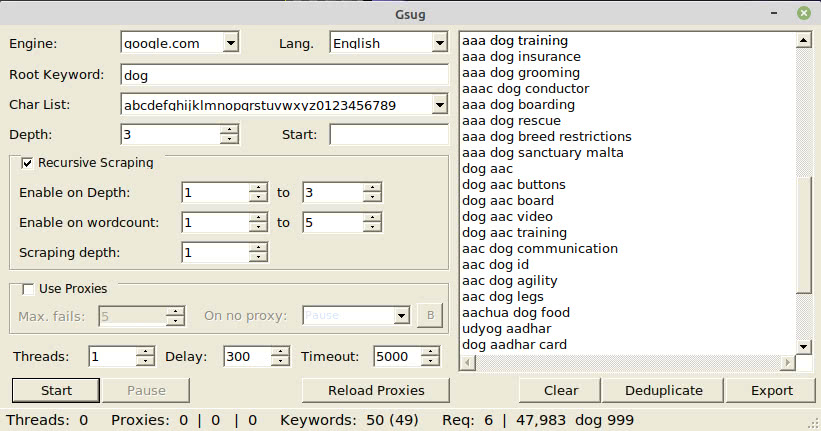 With one push of a button, GSug starts scraping keywords from Google autocomplete.
Add to that its proxy support and in a matter of hours or minutes you can get yourself a huge keywords list. Also,this is the perfect software for generating lists of long tail keywords.
Best of all, it's completely free.
DOWNLOAD NOW
For a software that is only a few kylobytes in size, GSug packs a lot of options.
First of all it is multi-threaded, meaning it is capable of scraping keywords very fast. Combine that with its proxy support, and you have a phenomenal scraping machine.
Besides its multi-threading and proxy support, the software exposes to the user quite a few advanced options for scraping, like recursive scraping. This allows it to catch even the most obscure long tail terms that people use in Google to search for things.
Features
Completelly Free
Small sized software
Recursive scraping
Extremely fast operation
Multi-threaded
Highly customizable
Define your own character list
Proxy support
Customizable Options
Number of threads
Delay between requests
Timeout
Characters list
Recursive scraping options
Start with a specific character
On-disk backup in case of crash
Deduplicate feature